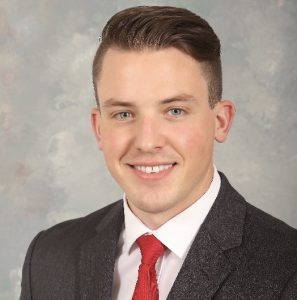 Dr. Bradley Stanton
Dentist
Dr. Stanton was born in Toronto and grew up in the Windsor area. Dr. Stanton obtained an
undergraduate degree in Biology with a minor in Biochemistry at the University of Windsor. He then attended the University Of Detroit Mercy School Of Dentistry, where he completed his Doctorate
of Dental Surgery in 2018.
Dr. Stanton worked extensively with underserved and at-risk populations in the Detroit area and in Northern Michigan during his training. Dr. Stanton gained many valuable skills including extensive experience in surgery, prosthodontics, endodontics, and restorative dentistry. Dr. Stanton is committed to expanding his scope of practice through continuing education and hopes to offer a wide variety of procedures as his dental career progresses.
Outside the office, Dr. Stanton enjoys riding his bike through the city and running along the waterfront.
He is kept busy at home by looking after his bulldogs Phoebe and Reggie and trying new and delicious
restaurants with his fiancé Lisa.
What Our Patients are Saying
Ulric Kaufmann
Dr. Poon Woo has been my dentist for the past 30+yrs. She takes her time in explaining any new work that I may require. My appointments always start on time. Her staff, both dental and admin, are top notch: professional and courteous. Her office is modern and has upgraded its technology and procedures as the years have gone by
Indira Boodhan Bastias
Dr. Chin and team were amazing when interacting with my 10 year old daughter. She is terrified of having any dental work done, and after her first visit here she was calm and relaxed. She has asked me to make this her regular dental care office. Dr. Chin was great with her. She showed my daughter what tools she was going to use and the procedure. It was very comforting to see. I'll be booking future cleanings for all my kids here. Thanks for being so welcoming.
Andrey V
Excellent service, friendly staff. The best office in Toronto. Highly recommend.