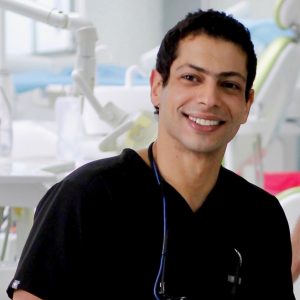 Dr. Sherif Said
Periodontist
Dr. Said received his bachelor's degree in Dental Surgery (BDS.) and AEGD training from MSA University in Cairo, Egypt graduating Magna Cum Laude and subsequently accepted a faculty position in the department of Oral and Maxillofacial Surgery. Alongside his academic affiliation, Dr. Said also
maintained a full-time position in The Periodontal Prosthesis Clinic with his father, Dr. Yousri Z. Said (CAGS, MSc. DSc.) for three years.
In 2013, Dr. Said completed his periodontics fellowship program at Case Western Reserve University. Following this, Dr. Said completed a Certificate in Advanced Graduate Studies in Periodontology and a Masters of Science in Dentistry at Boston University. Dr. Said's training focused on growth factors and peri-implant tissue development.
Dr. Said maintains a Clinical Assistant Professor position in the post-doctoral periodontology department at Boston University and he is both a diplomate of the American Board of Periodontology and a fellow of the Royal Colleges of Dentists of Canada. Dr. Said lectures internationally and has published numerous refereed articles and book chapters on the topic of anterior implant esthetics with a strong focus on minimally invasive and cosmetic regenerative procedures.
In his spare time, Dr. Said enjoys spending time with his friends and family, playing squash, and traveling to different beach destinations where he has taken up wakeboarding as a new hobby.
What Our Patients are Saying
Margaret Bramhill
The Bloor West Dental Group is fantastic! Especially my dentist Jaclyn Chin- great service and I always leave feeling well taken care of!
Neil L. Silvert
From the friendly staff; to the welcoming clean and healthy environment; to the incredible expertise of Dr. Jaclyn Chin and her associates, we could not be happier and more impressed with our experience in this tremendous dental practice.
For the best in oral healthcare and the most caring professionals, contact Bloor West Dental Group.
Indira Boodhan Bastias
Dr. Chin and team were amazing when interacting with my 10 year old daughter. She is terrified of having any dental work done, and after her first visit here she was calm and relaxed. She has asked me to make this her regular dental care office. Dr. Chin was great with her. She showed my daughter what tools she was going to use and the procedure. It was very comforting to see. I'll be booking future cleanings for all my kids here. Thanks for being so welcoming.