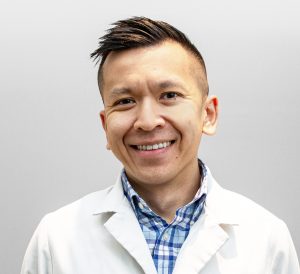 Dr. David Ho
Dentist
Dr. David Ho completed his Bachelor of Science undergraduate degree at The University of Western Ontario.  He earned his Doctor of Dental Surgery (DDS) degree at the University of Toronto in 2009.  After graduation, he completed a one-year General Practice Residency at Vancouver General Hospital and the University of British Columbia. There, he gained additional training in all areas of dentistry, including wisdom teeth extractions, single-agent IV sedation, and treatment of medically complex patients. He is also a certified Invisalign provider. 
Dr. Ho joined Bloor West Dental Group in 2011 and immediately developed a deep appreciation and respect for its wonderful patients, as well as for the Bloor West Village community at large! He strongly believes in the importance of continuing education and giving back to the community. As such, he stays current on the latest dental advancements and technology by regularly attending lectures, courses, and study clubs.
Dr. Ho is a member of the Royal College of Dental Surgeons of Ontario, the Ontario Dental Association, and the Toronto Crown and Bridge Study Club. Dr. Ho is also a past president and executive member of the West Toronto Dental Society.
In his spare time, Dr. Ho enjoys reading, travelling, cooking, and spending time with family and friends. 
What Our Patients are Saying
Sinda Abbott
For over 30 years we have enjoyed the polite and cheery good attitudes of all of the dentists and staff at Bloor West Dental Group. On my visit today I was marvelling at the advances in technology in dentistry and Bloor West have kept up with and use that technology to our (the patient) advantage. Thanks for the fabulous dental service.
p.s. - I love the text/email reminders!
Tracy McQuire
I have nothing but amazing things to say about Bloor West Dental Group for both me and my kids. Over the seven years we have been going to this office we have had a few dental issues and Dr. Jaclyn Chin has gone above and beyond to help us make informed decisions. You can tell that she genuinely cares about the well being of her patients and she will listen and help tailor treatment plans that fit budgets, lifestyles and comfort levels.
Andrey V
Excellent service, friendly staff. The best office in Toronto. Highly recommend.