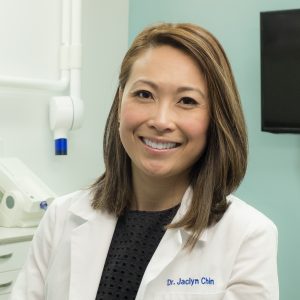 Dr. Jaclyn Chin
Dentist
Dr. Jaclyn Chin graduated with a Bachelors in Science from the University of Western Ontario in 2005 and completed her Doctor of Dental Surgery (DDS) degree at the University of Toronto in 2009.  She then completed a one-year Advanced Education in General Dentistry residency at the University of Michigan, with a focus in Computer Assisted Design – Computer Assisted Manufacture dentistry (CAD-CAM).
She is committed to continuing education and community involvement, spending time with colleagues at seminars and volunteering at local events. 
She is currently an interviewer for the DDS admissions committee at the University of Toronto and has been a part-time instructor at the dental school.  She once served as Secretary of the University of Toronto Alumni Board of Directors and on the executive of the West Toronto Dental Society (Past President 2015-2016).
Dr. Chin has been part of the Bloor West Dental Group team since 2010.
She approaches every day with empathy, sincerity and good humour.  Her joy from work definitely comes from her relationships with her patients!  She really cherishes the time she has with the amazing people that make up the Bloor West Dental Group practice.
She loves raising her family in Bloor West Village and being a part of the community.
What Our Patients are Saying
Adam Tkach
Just had my first appointment post-COVID-19. I was very impressed with the protocols in place and check-in process from the electronic sign-in to the temperature and oxygen checks when you arrive. Clean facilities have never been an issue here and there was hand sanitizer readily available in the waiting area. Overall great experience and felt safe coming back.
Deirdre Carroll
Always accommodating, professional and friendly staff! Dr. Chin is thorough and creates a relaxing environment for dental care-highly recommended.
Kim Luke
My family has been going to this dentist for over 20 years. Always courteous, reliable and helpful. They went to extra lengths to help when I was having trouble getting my son's dental accident covered by insurance. Highly recommend.