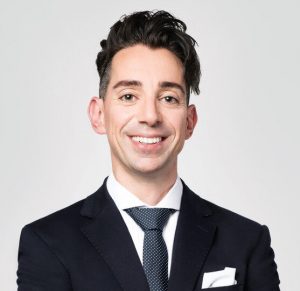 Dr. Mario Rotella
Prosthodontist
Dr. Mario Rotella is a Fellow of the Royal College of Dentists of Canada (F.R.C.D.(C)), a certified specialist in Prosthodontics. Dr. Rotella focuses his practice concentrating on the treatment of complex cases of aesthetic and functional rehabilitation on natural dentition and implants, with emphasis on veneers, crowns, bridges, and dentures. Dr. Rotella's practice encompasses the traditional prosthetic procedures and the most innovative ones, with a particular focus on the minimally invasive prosthetic procedures for the application of veneers, partial restorations, and all-ceramics crowns and bridges.
Dr. Rotella has presented his work in several dental meetings and he has published several articles in peer-reviewed journals, such as the Journal of Prosthetic Dentistry.
Dr. Rotella stays current through continuing education courses, lectures, and peer-reviewed articles. In this way, patients always receive the best care, in scientific and evidence-based philosophy.
Dr. Rotella is a member of the Royal College of Dental Surgeons of Ontario, the Ontario Dental Association, the Association of Prosthodontists of Ontario, and the American College of Prosthodontists. Dr. Rotella is also a Fellow of the Royal College of Dentist of Canada (FRCD (C)).
What Our Patients are Saying
Sinda Abbott
For over 30 years we have enjoyed the polite and cheery good attitudes of all of the dentists and staff at Bloor West Dental Group. On my visit today I was marvelling at the advances in technology in dentistry and Bloor West have kept up with and use that technology to our (the patient) advantage. Thanks for the fabulous dental service.
p.s. - I love the text/email reminders!
David Raphael
I have been seeing Dr. Chin since she graduated. She is a compassionate and extremely skilled dentist. She always takes the time to explain what she is doing and answers questions in an easy and understandable manner.
The staff at the office is also fantastic, ranging from the secretaries to hygienists. Overall, a well run and great dental office !
Valina Sintal
Been going to this dentist since I was a kid and the staff are always very friendly. The dentists and hygienists go the extra mile to make sure my teeth are well taken care of!