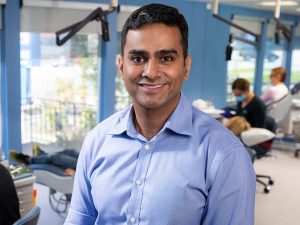 Dr. Shakti Singh
Orthodontist
Dr. Shakti Singh finished his residency in Orthodontics at the Faculty of Dentistry, University of Toronto, and in 2015 became a licensed Orthodontic Specialist in Ontario. As a young dental student, Dr. Singh was always fascinated by the "magic" done by orthodontists and their ability to move teeth and the huge psychosocial impact it created in patients' lives. Dr. Singh knew early in his dental career that he could make a positive impact on patients' lives by practicing Orthodontics.
Originally from New Delhi, Dr. Singh was an outstanding student accumulating numerous awards and achievements, including the Indian Dental Association Scholarship for a 1 st. place standing in the final year dental exams. Dr. Singh immigrated to Canada and in his quest to become a dentist, he cleared the Canadian Dental Board Examinations in one go. Dr. Singh in fact ranked first (throughout Canada) in the Assessment of Fundamental Knowledge exam administered by the Canadian
Dental Board in 2012.
Wanting to pursue orthodontics Dr. Singh was able to secure one of only 3 spots available throughout
Canada for residency in Orthodontics, for internationally trained orthodontists. This incidentally was the only spot available in Ontario at the Faculty of Dentistry, University of Toronto.
Dr. Singh joined Bloor West Dental Group in 2019 and was instantly a welcome addition to the
team and patients with his positive energy, friendly manner and vast knowledge of Orthodontics.
What Our Patients are Saying
Ulric Kaufmann
Dr. Poon Woo has been my dentist for the past 30+yrs. She takes her time in explaining any new work that I may require. My appointments always start on time. Her staff, both dental and admin, are top notch: professional and courteous. Her office is modern and has upgraded its technology and procedures as the years have gone by
Anutka Makovskaya
I love the professional, cutting edge and warm dental care, the friendly staff and the ambiance. It's like being treated in your own home. I highly recommend this clinic.
Miragh Bitove
The absolute friendliest staff from front of house to the chair, beautiful clean and modern space, and quick wait times.