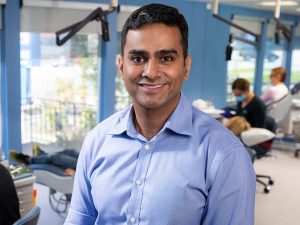 Dr. Shakti Singh
Orthodontist
Dr. Shakti Singh finished his residency in Orthodontics at the Faculty of Dentistry, University of Toronto, and in 2015 became a licensed Orthodontic Specialist in Ontario. As a young dental student, Dr. Singh was always fascinated by the "magic" done by orthodontists and their ability to move teeth and the huge psychosocial impact it created in patients' lives. Dr. Singh knew early in his dental career that he could make a positive impact on patients' lives by practicing Orthodontics.
Originally from New Delhi, Dr. Singh was an outstanding student accumulating numerous awards and achievements, including the Indian Dental Association Scholarship for a 1 st. place standing in the final year dental exams. Dr. Singh immigrated to Canada and in his quest to become a dentist, he cleared the Canadian Dental Board Examinations in one go. Dr. Singh in fact ranked first (throughout Canada) in the Assessment of Fundamental Knowledge exam administered by the Canadian
Dental Board in 2012.
Wanting to pursue orthodontics Dr. Singh was able to secure one of only 3 spots available throughout
Canada for residency in Orthodontics, for internationally trained orthodontists. This incidentally was the only spot available in Ontario at the Faculty of Dentistry, University of Toronto.
Dr. Singh joined Bloor West Dental Group in 2019 and was instantly a welcome addition to the
team and patients with his positive energy, friendly manner and vast knowledge of Orthodontics.
What Our Patients are Saying
Hannah Weinstangel
We are so happy with the care given by Dr. Chin to our whole family. She is kind, knowledgeable, and skilled. Our preschooler actually looks forward to going to the dentist - which says a lot about Dr. Chin's approach! We recommend her to all our friends. The staff at Bloor West Dental Group are also consistently kind and helpful, and we have always had good experiences with the hygienists who do our teeth cleaning.
Miragh Bitove
The absolute friendliest staff from front of house to the chair, beautiful clean and modern space, and quick wait times.
Tracy McQuire
I have nothing but amazing things to say about Bloor West Dental Group for both me and my kids. Over the seven years we have been going to this office we have had a few dental issues and Dr. Jaclyn Chin has gone above and beyond to help us make informed decisions. You can tell that she genuinely cares about the well being of her patients and she will listen and help tailor treatment plans that fit budgets, lifestyles and comfort levels.