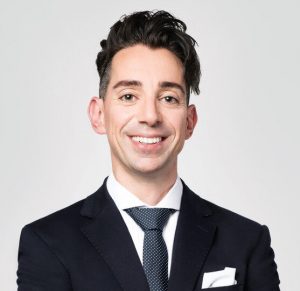 Dr. Mario Rotella
Prosthodontist
Dr. Mario Rotella is a Fellow of the Royal College of Dentists of Canada (F.R.C.D.(C)), a certified specialist in Prosthodontics. Dr. Rotella focuses his practice concentrating on the treatment of complex cases of aesthetic and functional rehabilitation on natural dentition and implants, with emphasis on veneers, crowns, bridges, and dentures. Dr. Rotella's practice encompasses the traditional prosthetic procedures and the most innovative ones, with a particular focus on the minimally invasive prosthetic procedures for the application of veneers, partial restorations, and all-ceramics crowns and bridges.
Dr. Rotella has presented his work in several dental meetings and he has published several articles in peer-reviewed journals, such as the Journal of Prosthetic Dentistry.
Dr. Rotella stays current through continuing education courses, lectures, and peer-reviewed articles. In this way, patients always receive the best care, in scientific and evidence-based philosophy.
Dr. Rotella is a member of the Royal College of Dental Surgeons of Ontario, the Ontario Dental Association, the Association of Prosthodontists of Ontario, and the American College of Prosthodontists. Dr. Rotella is also a Fellow of the Royal College of Dentist of Canada (FRCD (C)).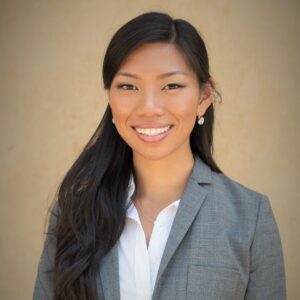 Dr. Claire Leewing
Oral Surgeon
Dr. Claire Leewing was born and raised in Toronto, Canada, attending the University of Toronto while also competing on the Women's Varsity Volleyball team, earning a bachelor's in physical health and education with High Honours as well as an Academic All-Canadian Athlete award.
Dr. Leewing graduated from the University of Southern California with a Doctorate of Dental Surgery. There, Dr. Leewing enjoyed volunteering through USC Mobile Clinic and Ayuda International to provide free dental care to underserved adults and children across Los Angeles,and also received recognition for her academic and leadership achievements.
Dr. Leewing went on to complete her internship and four-year residency in Oral and Maxillofacial Surgery at Montefiore Medical Center/Albert Einstein School of Medicine in the Bronx, NY, serving as Chief Resident. Dr. Leewing's specialist training encompassed full-scope oral and maxillofacial surgery, with emphasis on dentoalveolar surgery, implantology, corrective jaw surgery, oral pathology, maxillofacial trauma, temporomandibular joint disorders, intravenous sedation and general anesthesia.
Dr. Leewing holds specialist certification in Oral and Maxillofacial Surgery in both Canada and the United States, as a Fellow of the Royal College of Dentists of Canada and as a Diplomate of the American Board of Oral and Maxillofacial Surgeons.
Dr. Leewing takes great pride and joy in aiding patients achieve their oral health goals and alleviating their pain and anxiety. Patient safety, comfort and education are central to Dr. Leewing's treatment philosophy.
Outside of her surgical practice, Dr. Leewing enjoys volleyball, yoga, cycling, dancing, and traveling.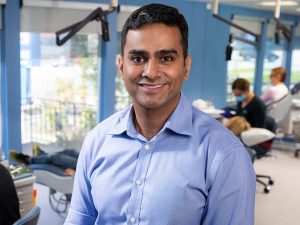 Dr. Shakti Singh
Orthodontist
Dr. Shakti Singh finished his residency in Orthodontics at the Faculty of Dentistry, University of Toronto, and in 2015 became a licensed Orthodontic Specialist in Ontario. As a young dental student, Dr. Singh was always fascinated by the "magic" done by orthodontists and their ability to move teeth and the huge psychosocial impact it created in patients' lives. Dr. Singh knew early in his dental career that he could make a positive impact on patients' lives by practicing Orthodontics.
Originally from New Delhi, Dr. Singh was an outstanding student accumulating numerous awards and achievements, including the Indian Dental Association Scholarship for a 1 st. place standing in the final year dental exams. Dr. Singh immigrated to Canada and in his quest to become a dentist, he cleared the Canadian Dental Board Examinations in one go. Dr. Singh in fact ranked first (throughout Canada) in the Assessment of Fundamental Knowledge exam administered by the Canadian
Dental Board in 2012.
Wanting to pursue orthodontics Dr. Singh was able to secure one of only 3 spots available throughout
Canada for residency in Orthodontics, for internationally trained orthodontists. This incidentally was the only spot available in Ontario at the Faculty of Dentistry, University of Toronto.
Dr. Singh joined Bloor West Dental Group in 2019 and was instantly a welcome addition to the
team and patients with his positive energy, friendly manner and vast knowledge of Orthodontics.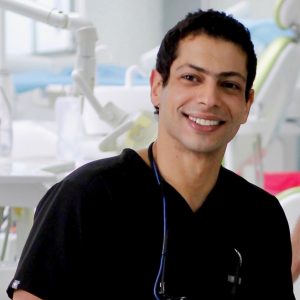 Dr. Sherif Said
Periodontist
Dr. Said received his bachelor's degree in Dental Surgery (BDS.) and AEGD training from MSA University in Cairo, Egypt graduating Magna Cum Laude and subsequently accepted a faculty position in the department of Oral and Maxillofacial Surgery. Alongside his academic affiliation, Dr. Said also
maintained a full-time position in The Periodontal Prosthesis Clinic with his father, Dr. Yousri Z. Said (CAGS, MSc. DSc.) for three years.
In 2013, Dr. Said completed his periodontics fellowship program at Case Western Reserve University. Following this, Dr. Said completed a Certificate in Advanced Graduate Studies in Periodontology and a Masters of Science in Dentistry at Boston University. Dr. Said's training focused on growth factors and peri-implant tissue development.
Dr. Said maintains a Clinical Assistant Professor position in the post-doctoral periodontology department at Boston University and he is both a diplomate of the American Board of Periodontology and a fellow of the Royal Colleges of Dentists of Canada. Dr. Said lectures internationally and has published numerous refereed articles and book chapters on the topic of anterior implant esthetics with a strong focus on minimally invasive and cosmetic regenerative procedures.
In his spare time, Dr. Said enjoys spending time with his friends and family, playing squash, and traveling to different beach destinations where he has taken up wakeboarding as a new hobby.
What Our Patients are Saying
Adam Tkach
Just had my first appointment post-COVID-19. I was very impressed with the protocols in place and check-in process from the electronic sign-in to the temperature and oxygen checks when you arrive. Clean facilities have never been an issue here and there was hand sanitizer readily available in the waiting area. Overall great experience and felt safe coming back.
Kim Luke
My family has been going to this dentist for over 20 years. Always courteous, reliable and helpful. They went to extra lengths to help when I was having trouble getting my son's dental accident covered by insurance. Highly recommend.
Valina Sintal
Been going to this dentist since I was a kid and the staff are always very friendly. The dentists and hygienists go the extra mile to make sure my teeth are well taken care of!